The phone number on the business card for the "Squid Game" caused a lot of trouble for Netflix. Because it belongs to a real phone line. The person was inundated with calls. Now Netflix wants to remove the scenes from the series.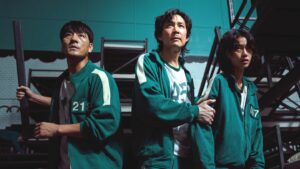 The phone number is the one on Seong Gi-(Lee hun's Jung-Jae) business card, which he is meant to call if he wishes to participate in the games.
In episode 2, a police officer calls the phone again, and Gi-hun tells him about the sadistic activities.
Some viewers dialed the number and were greeted by a real person.
She was allegedly inundated with phone calls and text messages.
Thousands of Calls Because of Squid Game
According to the "South China Morning Post", there were reportedly up to 4,000 calls a day, even at night. In some cases, the callers asked if they could "join the game". The person initially thought the calls, as well as text messages and pictures sent to him, were spam until one of the callers informed him that the phone number was featured in Netflix's current biggest hit.
The Reuters report mentions a woman named Kim Gil-young, who is said to have received the prank calls and also to have given an interview about them to a Korean broadcaster. In many original news reports, among others from the South China Morning Post, a man was named as the victim of the phone terror. Unfortunately, we cannot verify this.
Netflix and the Squid Game production company Siren Pictures want to cut out some scenes.