Employees of Netflix have protested a show by U.S. comedian Dave Chappelle that has been criticized as anti-transgender. Dozens of people gathered outside Netflix's Los Angeles headquarters on Wednesday after Chappelle's comments about transgender people became increasingly controversial.
Protest Organizer Ashlee Marie Preston said: "We are here today not because we don't know how to take a joke. We're here because we're concerned that the jokes are taking lives".
Last year. 44 people were killed in the US, according to Human Rights Watch. Human Rights Watch is a non-governmental organization.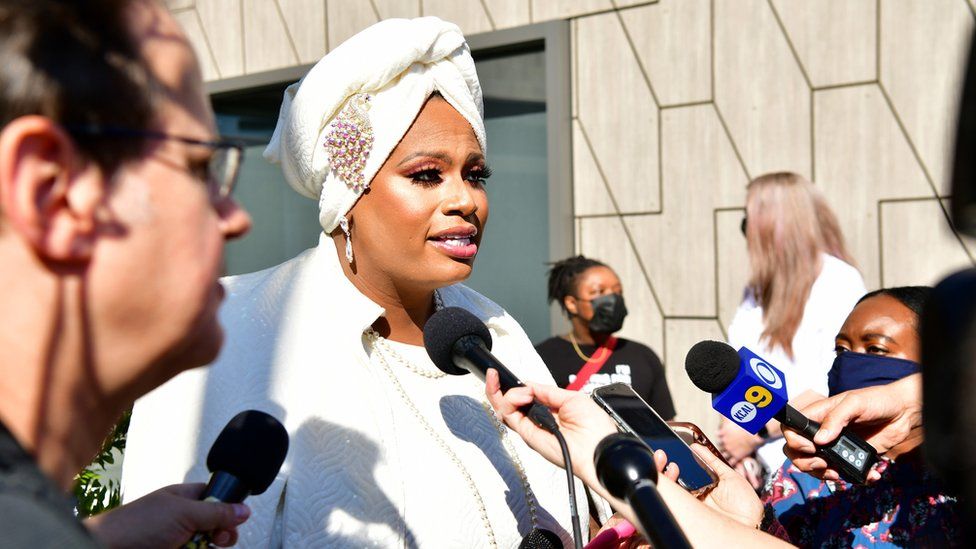 Protest organizer Ashlee Marie Preston- Image source, Getty Images
Dave Chapelle: "Gender is a fact"
Among other things, Dave Chapelle expresses his opinion on trans people and the LGBTQ+ community. He states for example, that in his opinion "gender is a fact" and "every person in the world comes into the world through the legs of a woman. Genitals of transwomen "are not what they're supposed to be."
Ted Sarandos, Netflix's Chief Content Officer, previously defended the company's choice to air the show.
He claimed that "content on screen does not directly translate to real-world suffering" in a leaked staff memo, and emphasized the need of maintaining "creative freedom."
Mr. Sarandos later admitted to "screwing up the internal communication" in an interview with Hollywood trade website Deadline.
"I should've made sure to recognize that the decision I made was causing a lot of pain to a section of our staff," he continued.
"I have a great deal of respect for them, and I like the work they do at Netflix. They were in pain, and I should've realized it sooner."
Looking for what's new on Netflix? Click here!
Looking for what is coming soon? Click here!
What's Leaving Netflix in August 2021? Click here!
These are the 10 most-watched Netflix originals: Click here!

Looking for Netflix news? Click here!